Berlin: Reporters Without Borders present report on press freedom situation in Syria to Ribal Al-Assad
Thursday, 30 September 2010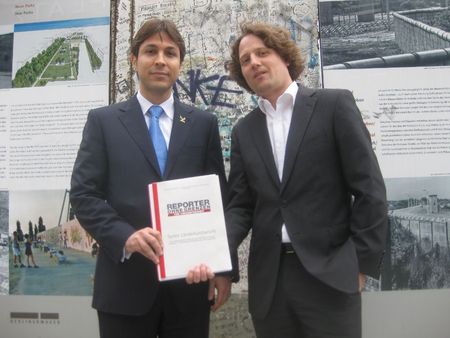 Director of Reporters Without Borders, Germany, Christian Rickerts today presented a report, on the press freedom situation in Syria, to ODFS Director Ribal Al-Assad in Berlin. The report, which was published in July, states that the Syrian regime still decides who can be a journalist. Syria is ranked 165th out of 175 countries in the Reporters Without Borders press freedom index and is listed as an "Enemy of the Internet." The regime is regarded as one of the worlds 40 worst "Predators of press freedom."
Commenting on the meeting Ribal Al-Assad said:
"I was delighted and honoured to meet Christian Rickerts and to be presented with the Reporters Without Borders report. We had an excellent discussion about bringing democracy, freedom and human rights to Syria. I call on the Syrian regime to lift the state of emergency immediately and allow the people to exercise their rights of association and expression. I also call on the Syrian regime to end press and internet censorship and unleash social media."
More news articles