Ribal Al-Assad calls for Indian diplomacy to bring peaceful resolution to Syria crisis in interview with the Sunday Guardian
Sunday, 19 February 2012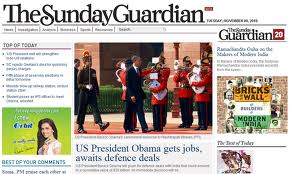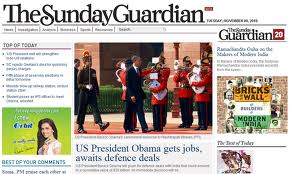 Assad's cousin wants Indian role in Syria
SUMAN SHARMA NEW DELHI | 12th Feb
Ribal Al-Assad, the founder and director of the Organisation for Democracy and Freedom in Syria and the exiled cousin of Syrian President Bashar Al-Assad, warns against a quick-fix solution to the current Syrian situation. This could lead to a theocratic Sheikh-like rule, quite similar to Iran, he said.
Ribal, the 37-year-old cousin of the Syrian President, living in exile in London for the past eight years, said that the West, after hijacking the democracy movement in Syria, could end up in a situation much worse than the present brutal regime if they continue to back fundamentalist forces in their hurried approach.
In an exclusive interview to this newspaper, Ribal welcomed India's support for democracy and regime change in Syria and called for the country, which he described as the world's largest democracy, to play a larger role. "India is neutral, therefore, it should supervise the situation in Syria. Talks with the Opposition are a way out, but the Opposition is fragmented and needs to be united. The West should play a more pro-active role in building up the movement of people's support and unifying the Opposition parties." Fearing that power would fall into the hands of fundamentalists, Ribal Assad said, "We have been fighting for democracy for many years. Our movement began much before the Arab Spring. But now, with the support of countries like Turkey, Saudi Arabia and Qatar, the West is helping the fundamentalist forces, which is bad for democracy."
Ribal, whose father, Rifaat Assad, was the Vice President of Syria but now lives in exile in France, said Iran was posturing for a fight, with the aim to use proxy groups to exercise greater influence and control in the region.
Earlier this week India had supported the draft resolution on Syria, initiated by Morocco and backed by the Arab League, which eventually failed to be adopted by the UN Security Council as two of its permanent members, Russia and China, vetoed it. India drew flak from the Left parties back home for its stand on the UNSC resolution on Syria.
Turkey, a Nato nation, has emerged as a staging post between the East and the West, and is being pursued by the United States to play the role of a peacemaker. But Ribal Assad expressed concerns about Turkey trying to use the situation to regain its own old influence in the region, owing to its growing economic links with Europe and the US. Assad also pointed out to a sectarian divide between Shias and Sunnis across the Arab world.
"The Shias are led by Iran, supported by Lebanon, Iraq and Syria, and backed by Russia and China, while the Sunnis are led by Turkey, which has the US' proxy, and supported by Qatar and Saudi, who are backing the fundamentalists across the region."
Refusing to be called a Shia Alawite, something that the Syrian leadership is addressed as, Ribal Assad said he was a "Moslem", and this sect division was done by certain groups for political gains.
Ribal, who runs a TV channel in London, the Arab News Network (ANN), said, "We need the United States to articulate a clear policy on Syria, that will then facilitate a process of dialogue across the entire Syrian Opposition, which must have a representation of all our people."
Ribal Assad, a fitness freak, fond of historical books and movies is one among 16 siblings, all of whom are in exile in London, France and Spain. Calling for a peaceful change, which can only survive through a genuine commitment to a reform agenda, Ribal also blamed Syrian businessman Rami Makhlouf, a direct cousin of President Bashar, from his mother's side, for the corruption in the country.
Ribal Assad, who had warned of a civil war, almost a year ago when the protests began, says that these protests were initially peaceful, but later turned violent as arms were provided to these groups. Around 6,000 Syrians have been killed in these protests so far, in a country of 24 million. Ribal is not optimistic about a speedy solution and says that the country has a grim image, but at the same denies any comparison with Libya, saying that the situation is different in both countries. Syria, where rural areas have been totally neglected by the current regime which came into power in 2000, is due for presidential elections in 2014.
A former diplomat told this newspaper, "This was the best opportunity for India to have exercised abstention." It may be noted that New Delhi had refused support to the resolution on Libya in the UN Security Council last year and had abstained, and it was this resolution which prompted the US and Nato forces to launch a military strike in Libya for a regime change.
The current resolution on Syria supported by the Arab League and backed by Western powers, would have led to a similar situation for external intervention, had there not been a Russian and Chinese veto. What remains to be seen is whether Syria, with its alliance with Lebanon, Iran, Iraq, Russia and China, can have a peaceful regime change.
Related Links
More news articles